On November 5, 2021 Mode Partners 025 and GIST hosted the event transformation of fashion | transition of the system where local pioneers – who aim to change the fashion system – came together. Mode Partners 025 and GIST joined forces to embrace Arnhem's locality where socially engaged practitioners, pioneers, students, makers, designers and brands can come together to create change collectively.
One of these local pioneers is Sebastiaan Kramer, who spoke on behalf of the Fashion Design Festival Arnhem (FDFA). Whereas the previous edition of FDFA focused on the different ways of dealing with fashion and design, this edition focuses on the purpose of the two. Kramer highlights the importance of accentuating other values instead of the commercial one. Currently commerce is dominant, and perhaps the most present value when speaking about fashion. At the same time it results in a system that exploits and pollutes. However, when fashion moves beyond the commercial value and focuses on cultural and emotional values, it gets more interesting.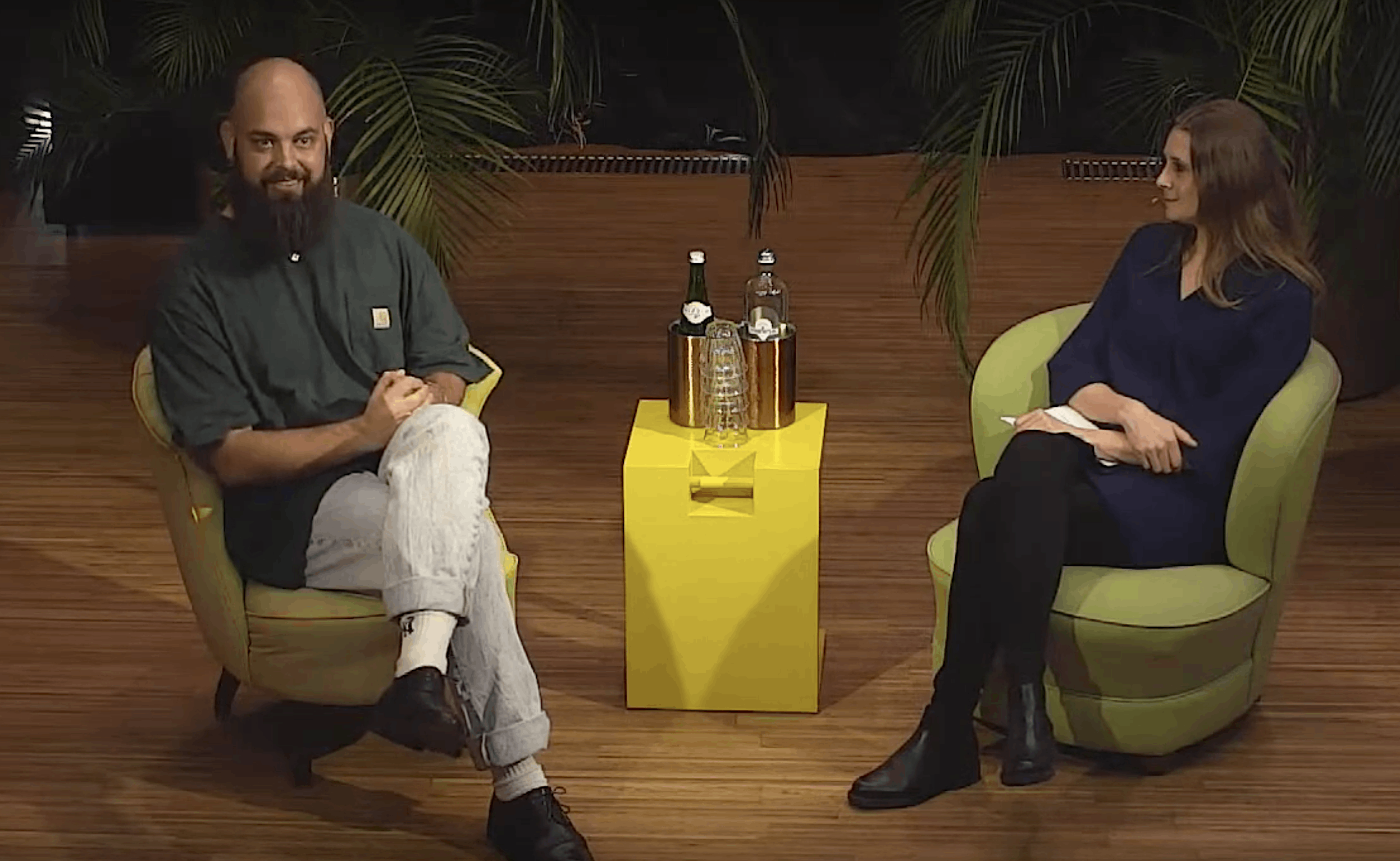 Sebastiaan Kramer in conversation
Emotion also lies at the core of the conversation between Esther Munoz Grootveld and Kaat Debo (director MOMU Antwerp), where they discuss the role of fashion museums in current society. MOMU opened after four years with a renewed – more critical and activistic – role and offers a platform to discuss the impact fashion (as an industry) has on society in many different ways. This is an urgent and relevant matter, as fashion plays a really huge and important role in society, but this social and cultural side is most of the time neglected.
An interesting part in their conversation is how Debo highlights that the rhythm of a museum is way different than the rhythm of the industry. Specifically, the way you walk and absorb stimulation is completely different in a shopping street than in a museum. As Debo defines it as an interesting friction, I see it as hopeful. It's precisely this realisation and observation of the difference that can be a starting point to greater change.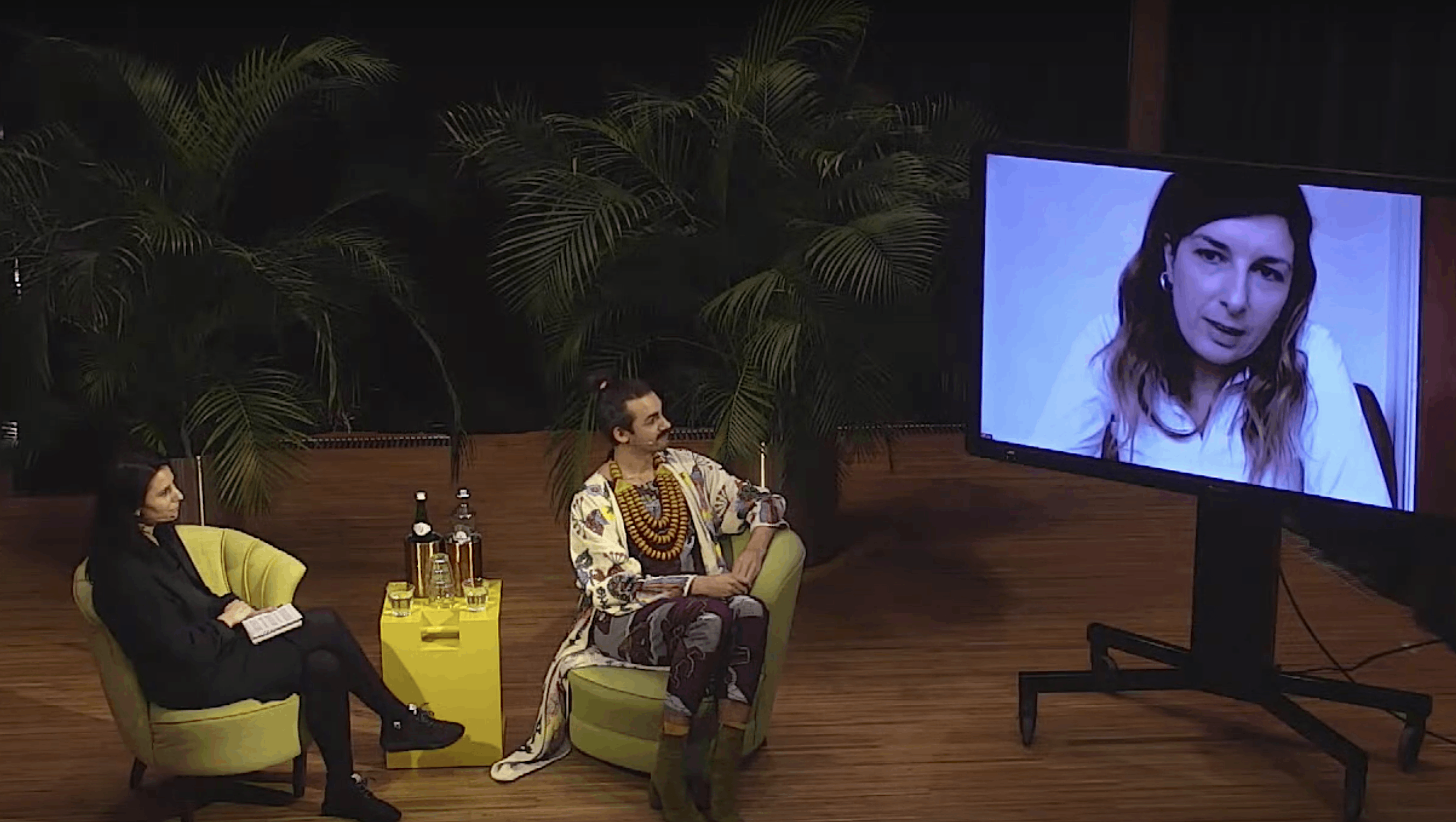 Another aspect that is lacking in the current industry is care. This is exactly what the second edition of State of Fashion (SToF) responds to. This event is curated by two merged initiatives: Not_Enough Collective and Fashion Open Studio. Together they emphasise the need to repair broken bonds and disrupted relationships within the fashion world. The interview, hosted by Theodoor Adriaans, revealed the starting point of this year's SToF: the things they personally miss in the industry.
This relates to a quote by Not_Enough Collective that really attracted attention in the interview: ''only by recognizing and acknowledging what we're missing, understanding the consequences, can we move forward together''. It shows how personal reflection is important and gives a tangible feeling as opposed to the intangibility of the fashion system. It shows that we – as wearers of fashion – and our experiences and feelings do matter.
Another thing that struck me in the interview was the need for a different approach to fashion's process. This is highlighted by the following quote of Fashion Open Studio: ''a society that cares is a society prepared for repairs''. They prefer the following process: making, unmaking, wearing and keeping rather than buying, wearing and disposing. This method seems much more interesting, creative and better for our planet.
The last presentation also arose from personal frustrations. Daniëlle Bruggeman presented two projects named 'Solidarity in Fashion' and 'Practicing Solidarity'. The critique on the non-solidary strategies as part of the industrial fashion system lies at the core. With artistic research at the base, it has an open and explorative approach with the goal to develop new visions and concepts of what an alternative and more solidary fashion system could be. Within the projects, solidarity is defined as practicing an ethical attitude through a process of unselving, which allows us to give more attention to the thing that has not been given enough attention. As argued by Bruggeman, it can mean attention for new materials, animals, human beings, garments, feelings; it can be anything. I believe when we use this as the fundament of a renewed fashion system, it moves beyond the current way of working. It envisions a much more interesting and inclusive industry for every person, commodity, artefact, and creature involved.
Listening to each and every speaker in Transformation of fashion | transition of the system conveyed hope. It showed new perspectives, interesting voices, personal stories and refreshing ideas. But above all, it gave me hope for fashion's future.
If you want to (re)watch the event