The Research Collective for Decolonial Fashion organized its first Annual General Meeting from December 10th-12th, 2021. The three-day event spurred conversation surrounding how approaching fashion from a decolonial standpoint aids in dismantling Eurocentrism and how to combat the lingering effects of colonialism in non-Western countries. The Meeting took place for the first time and drew a global crowd ranging from academics to creatives from a myriad of different disciplines all joining because of their mutual interest in the intersections between decoloniality and fashion.
The first day of the Meeting, entitled "Introduction to RCDF / Decoloniality and Fashion in Brazil," began with an introduction from members of the RCDF executive board. RCDF, a nonprofit organization dedicated towards educating the public about decoloniality and fashion, was founded in 2012 by Angela Jansen and has since been operating as an informal network but announced its official recognized status by the Netherlands as a registered nonprofit organization at the event.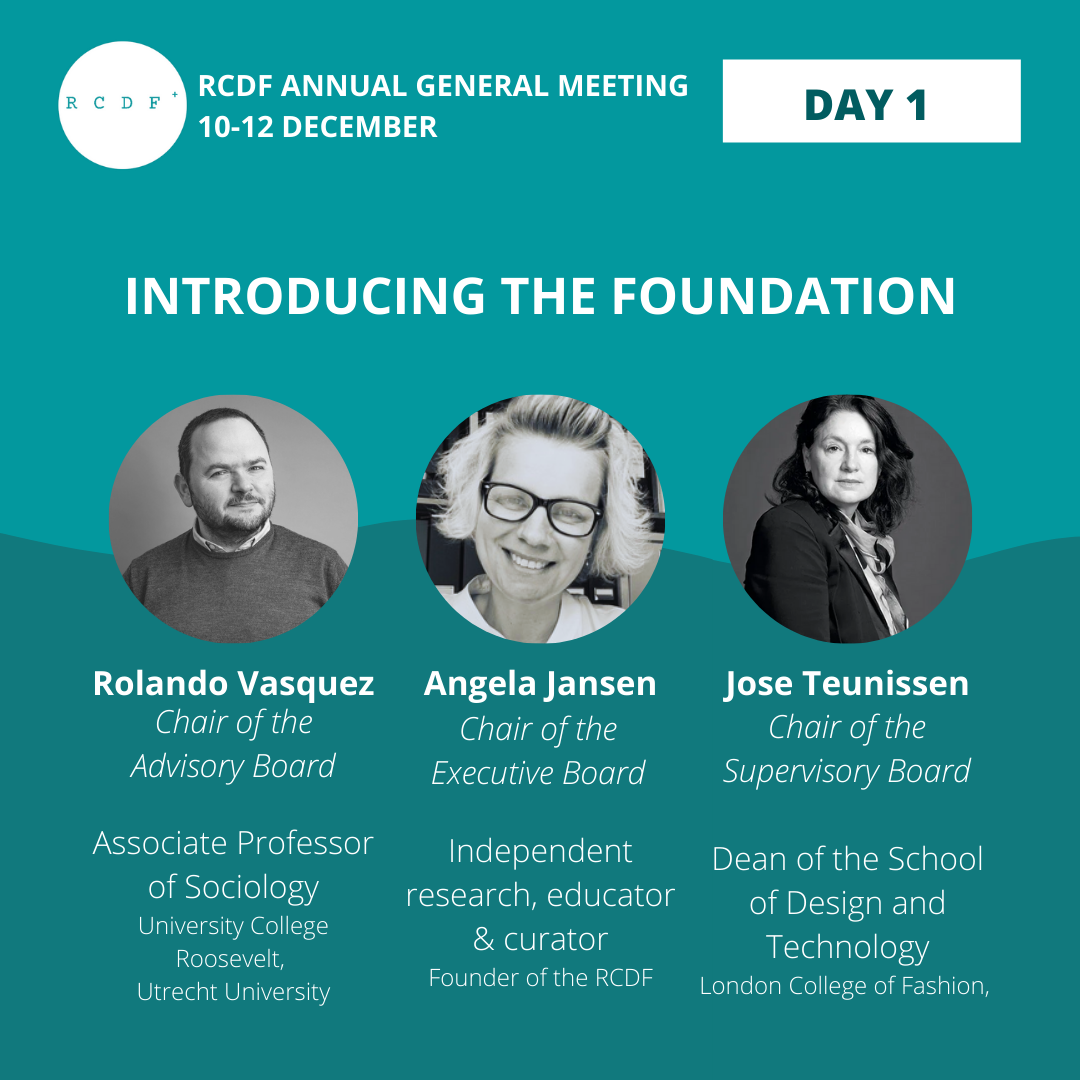 Rolando Vasquez (Chair of the RCDF Advisory Board) gave a keynote address calling for the evermore urgency of implementing the intersectionality of decoloniality and fashion in our daily lives, whether it be in our own ways we interact with fashion through everyday dressing or in fashion editorial publications and runways, because of the exploitation of other worlds, of other ways of dressing, of remembering contemporary fashion is complicit in through its claim to newness and the now.
Vasquez's keynote also emphasizes the importance of applying theory into our everyday lives and calls for its democratization. Decentering highbrow intellectualization of academia makes it more digestible and understandable and is therefore inherently decolonial. It allows us to look beyond fashion objects—a dress, a handbag, a pair of shoes—as more than just items of consumption but looking at them for their relations to memory, to history, and to ourselves. This way of looking lets us access other ways of seeing fashion that rebuke the contemporary symptoms of capitalistic (consumerist) fashion. Decolonial fashion challenges the Eurocentricity that not only pervades fashion, but also in life—particularly, the lenses which we use to live our lives.
RCDF also unveiled the launch of the first ever RCDF Zine, whose first issue focuses on decoloniality and fashion in Brazil. Mi Medrado (Editor-in-Chief, RCDF) presented the zine while also moderating the conversation alongside Heloisa Santos (IFRJ Professor and Researcher). They were joined in conversation by Caio Rosa (Photographer) and Isaac Silva (Fashion Designer) in discussing building black aesthetics in Black communities in Brazil while also rebuking black stereotypes in Brazil.
The zine presents ideas of how to look at fashion everyday beyond the runway. Contemporary fashion upholds the perception that the essence of fashion is only present if it is a spectacle. But at its heart, fashion exists in its purest form in the everyday; it is where human connection is found.
Opting to host the zine on an alternative platform such as a zine inherently decenters power from institutions, especially those who uphold notions and practices of colonialism and Eurocentrism. Institutions serve as gatekeepers of power through distance whereas zines make information more accessible to people through personability. By moving closer towards humanity—to empathy and understanding—the zine rids of the consumerist PR agenda that permeates many fashion publications and reverts knowledge from being property to its true nature of just being. Its unfettered nature allows it to create nuanced types of knowledge production and the RCDF Zine cultivates a space for understanding what is happening in Brazil through the deconstruction of mass culture.
The Meeting continued on the second day, entitled "Designing in the Borderlands," with keynote speakers Eleni Kalatidou (Co-editor of Design in the Borderlands, Design psychologist and senior lecturer Griffith University, Australia), Branko Popovic (Fashion Designer and Researcher, co-founder FASHIONCLASH, The Netherlands), Carol Barreto (Author, Artist, and Designer, Professor of Gender Studies Federal University of Bahia, Brazil), Sonya Battla (Fashion Designer and Researcher, CCO of Sonya Battla in Pakistan), and Aika Alemi (Fashion Designer and Researcher, co-founder of AIKA ALEMI in Kazakhstan), engaging in conversations surrounding the intersection of fashion and design, particularly in borderland countries with marginalized groups. Decoloniality serves as the connector across differences, especially for marginalized groups living in borderlands of both physical spaces and states of mind. The keynote format was subverted by moderators in an experiment in not only content but also form to subvert Eurocentricity through the repositioning of Western ideas in a more global fashion by democratizing who could speak and educate during the event.
'How can we deconstruct modernity without romanticizing cultures of antiquity?' is one of the key questions that burns to be answered throughout the Meeting, but particularly in this session. Eleni Kalantidou discusses how lending focus to what is already present in local cultural creative and craft practices, knowledge, and skills serves contemporary decolonial practices. By bringing the local into the context of the global by identifying what is growing now instead of reclaiming practices from the past, this new mode of thought serves as a rebuttal against globalization, a symptom of colonialism, whose practices negate local economic practices and values. What is in the now already contains what was in the past because everything builds on top of each other, culminating in a palimpsest of global cultures.
The third and final day of the Meeting, entitled "Decolonial Visual Arts," ended with a colloquially dubbed the "RCDF Movie Night," which consisted of a presentation of a series of short film screenings moderated by Khanyi Mpumlwana (RCDF Advisory Board Member). It featured films across a multitude of natures and disciplines, ranging from a short film series about Black creatives in Sao Paulo to a documentary about weaving practices inspired by the Rangsa ni Tonun, a 19th century text detailing Batak weaving tradition. The screening was intended to build and strengthen community and featured films from different countries across the globe. It highlights the cultural practices of global cultures while simultaneously informing audiences about diverse cultural values and showing different perspectives and communities and practices beyond Western cultures.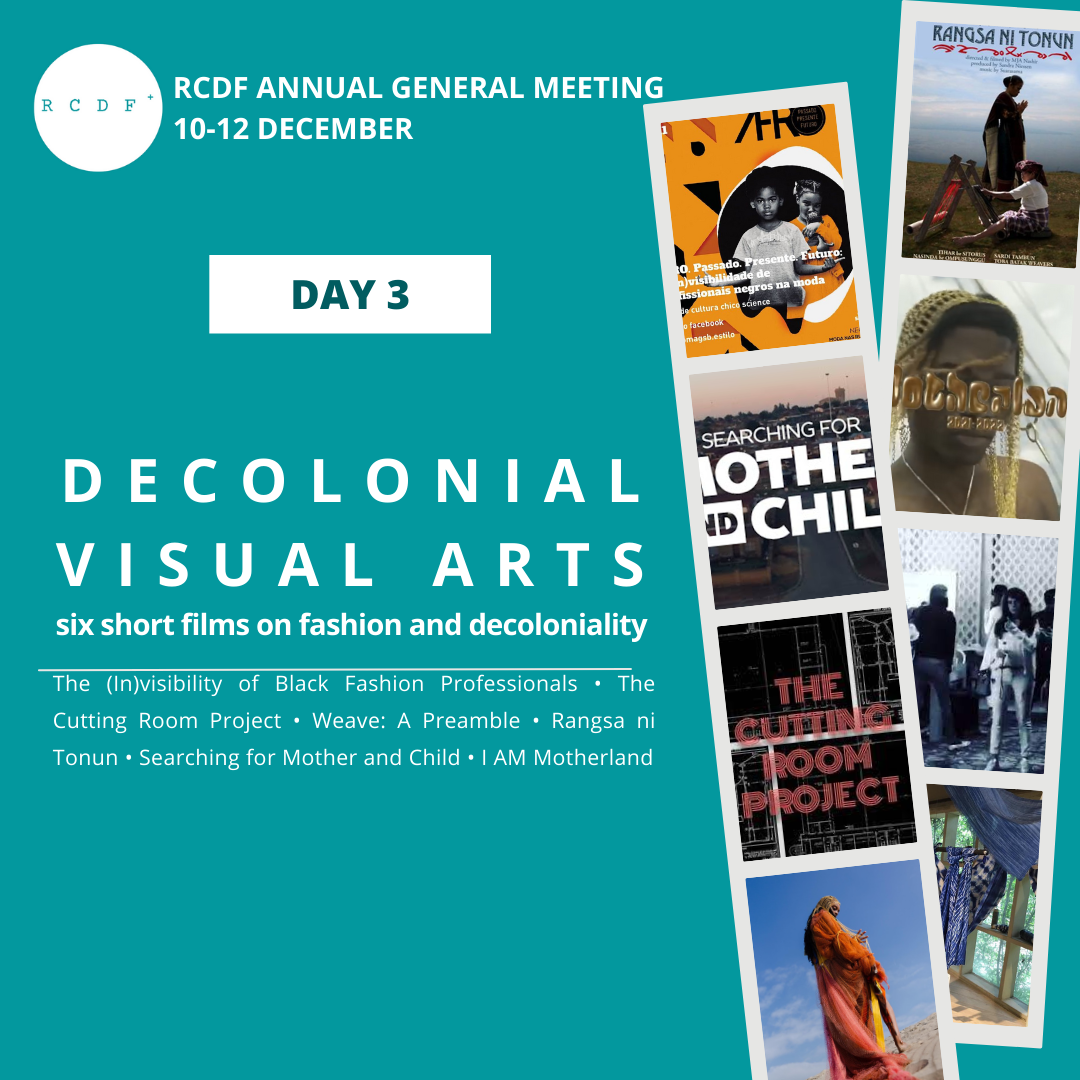 Like zines, films, particularly short films, and documentaries in indie spheres of filmmaking, are a subversive medium. The medium of film allows us to see the tangible ways colonialism intertwined with contemporary fashion affects society at-large. It illuminates how fashion is complicit in a multitude of Western institutions of thought and the symptomatic constructions and their resultant consequences.
The thematic focus of the six films centers around the ideas of how we explore our identities and how we fit into the world. By questioning ourselves in looking to those in the past and their art practices and storytelling, we are enacting a process of revival and exploration, honoring those who have come before us through actionable ways that seek to combat contemporary inequities.
The Meeting leaves us with the question of how to move beyond contemporary fashion culture. How can fashion further decolonize the modern colonial order? How can theoretical knowledge be weaponized in ways that enact tangible results in creating a more equitable and decolonized society?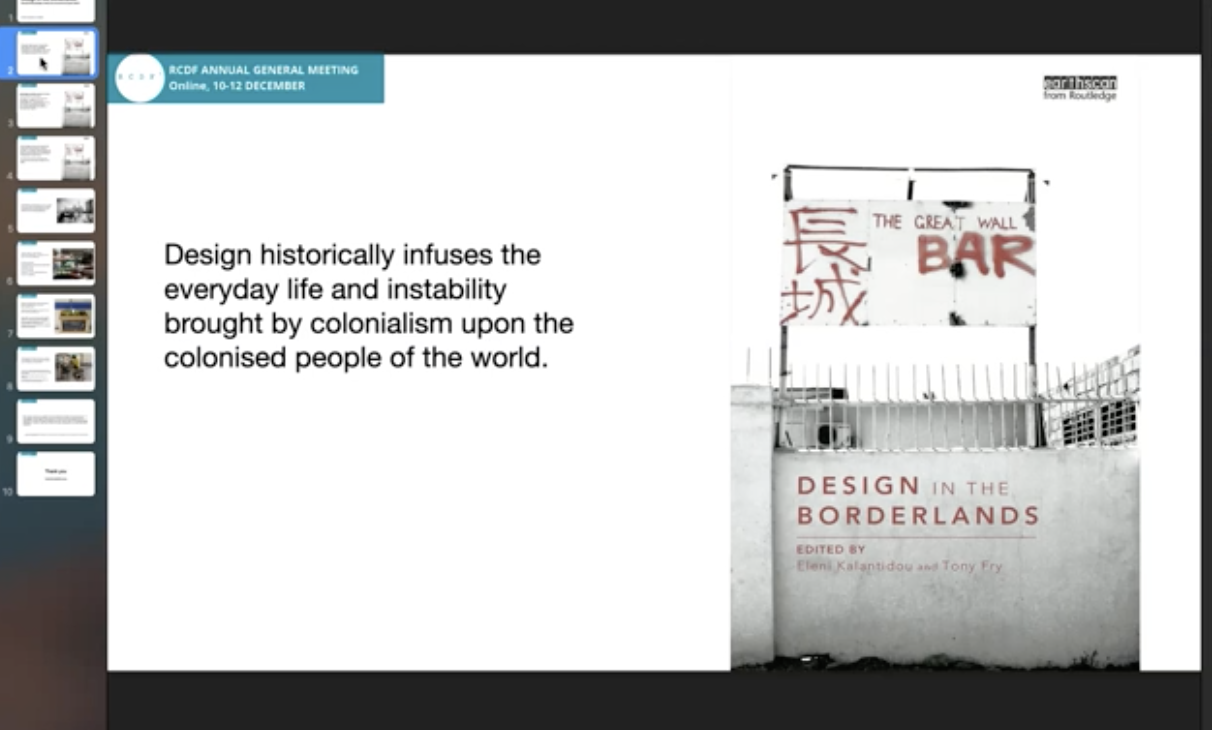 Though the Meeting's content focuses on decoloniality and fashion, it ultimately gestures at greater philosophical ideas by raising a myriad of questions about knowledge. How do we democratize knowledge production and distribution in a society that is driven by institutions? What are institutions and their uses? How can we repurpose these to be more generative and productive?
The spaces constructed by events like the Annual General Meeting through organizations like RCDF cultivate healing environments conducive for practicing open education and the exploration of decoloniality and fashion separate from the pretensions of academia and consumeristic industry of contemporary fashion. Spaces and initiatives like such are integral in a contemporary society that is becoming increasingly capitalistic and consumeristic and moving away from the tenets of humanity—empathy.
About Victoria Maung
Victoria Maung is an undergraduate student at New York University studying decolonial fashion and cultural criticism who one day hopes to work in the business and legal sides of fashion and own her own curated vintage store. In her free time, she loves visiting interactive art galleries, reviewing restaurants, and long distance running. A lover of monochromatic black, she will never be caught dead wearing color. Talk to her about your favorite designer.