Designer-artist Yamuna Forzani creates her own queer utopia
A new generation of recently graduated fashion designers are increasingly getting harder to pigeonhole: rather than perceiving and presenting themselves as traditionally trained designers, they define themselves as hybrid artists – operating on the cutting edge of fashion, art and craftsmanship. An up-and-coming designer that has caught our eye ever since she graduated from the KABK, The Hague, is Yamuna Forzani. Known for her brightly coloured garments and glitchy patterns, the designer is carving out a unique space within the fashion landscape – both for herself, and for the diverse community she represents.
By Rolien Zonneveld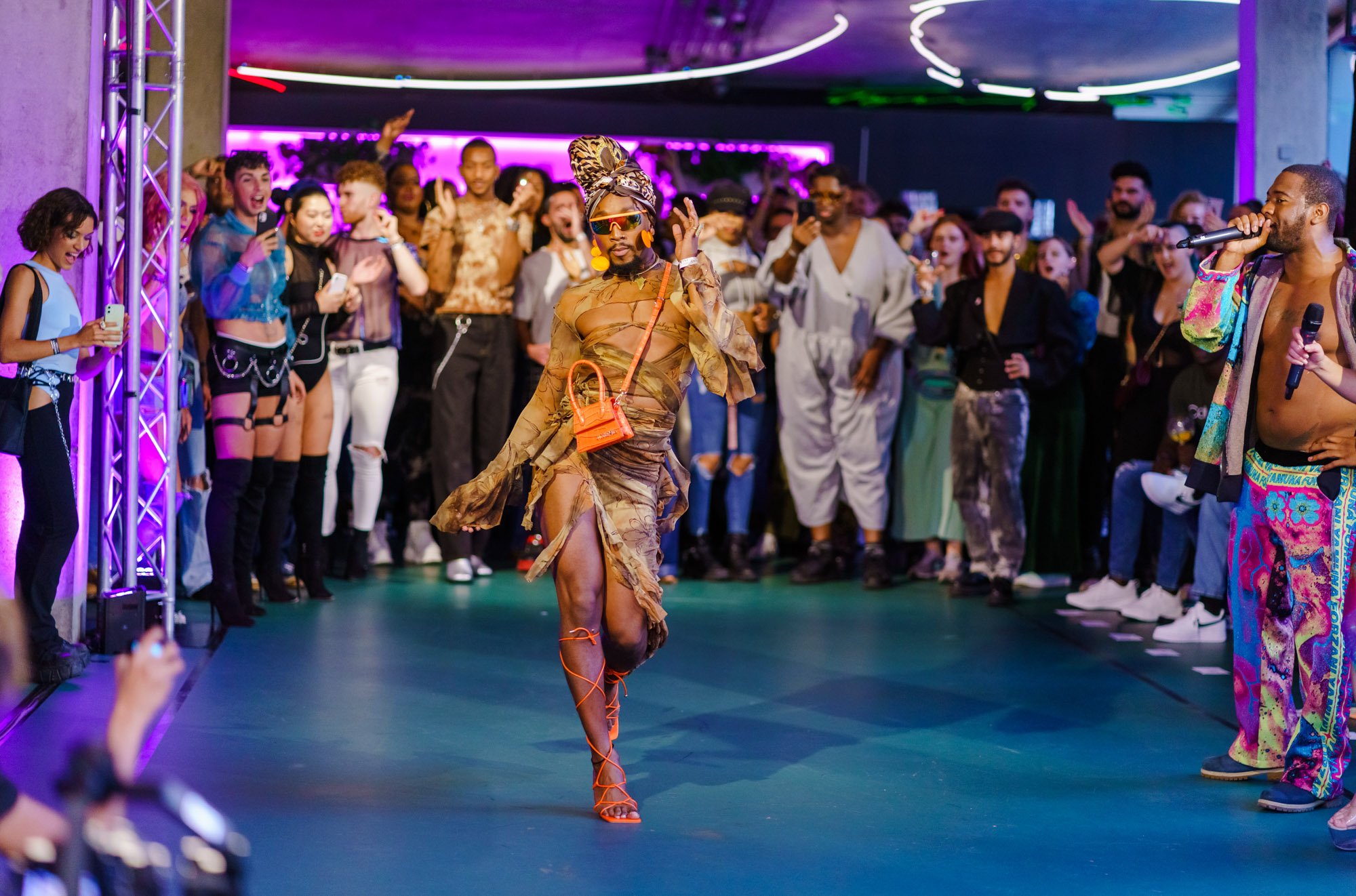 Moving to the Netherlands was not always in the books for Forzani. Raised between India and the UK as part of a bohemian family that travelled around a lot, the designer initially set out to study in London. When then-Prime Minister David Cameron announced to triple school fees – which she ferociously protested along with her peers – she became so frustrated by the thought of building up a crippling student debt, she decided to leave, and pursue a degree at the KABK.
"The KABK was a wonderful place to study," she explains. "In the fashion department, they don't just prepare you for the fashion industry, but for the entire art world. And so in the end, we kind of became art directors, as well as fashion designers." Going back to London temporarily to do an internship as part of the degree, however, turned out to be a sobering experience.
"It was then and there I got a taste for the London fashion industry, and what it was like for young, independent designers to work within it. I soon realised how toxic the environment was, and how it did not align with my personal values. This became apparent in the way interns were treated, to the lack of sustainability – both in terms of materials used and the way the industry was set up." Forzani became disillusioned and made a deal with herself that when she would graduate, she would want to pave her own way. And she did, influenced by an encounter that would change her artistic course.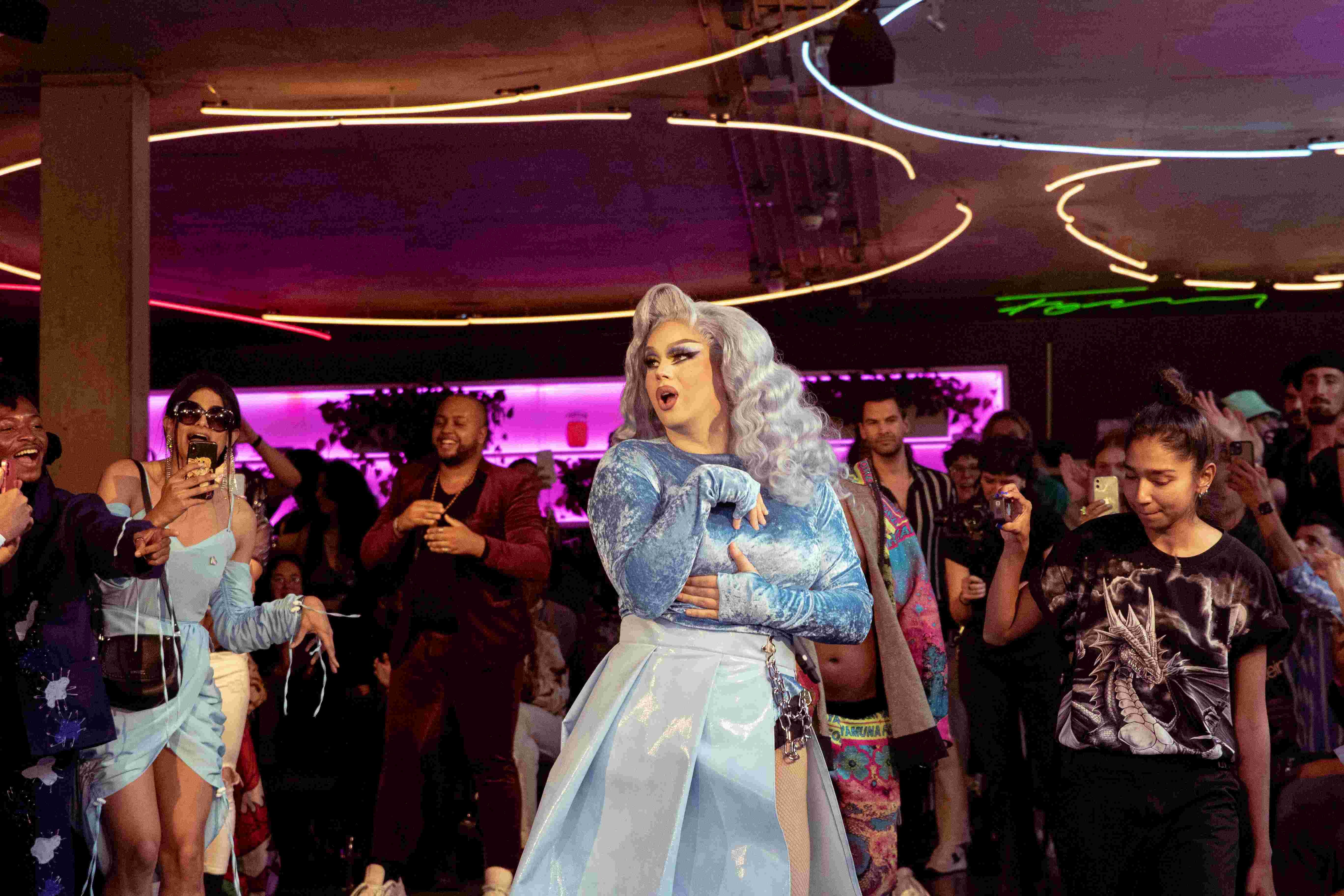 In 2016, the year in which she graduated, Forzani was introduced to the burgeoning ballroom scene that had been taking root in the Netherlands, not many years prior to it. A self-confessed Paris is Burning-fan, the 1991 documentary that chronicled Harlem's voguing and drag ball culture and engendered an entirely new LGBT+ lexicon, the designer was excited to find out similar scenes were shaping up in Europe. New York had always been the birthplace of the subculture – as the Deep in Vogue-exhibition in the Kunsthal, that Forzani was a significant part of, explains. In the 1970s, Black and brown homosexual men and transgender women were often subjected to exclusion and discrimination, both from outside and within the lgbt+ community. To counteract this, members started creating their own, chosen families, the so-called houses. These houses would come together during balls; safe spaces where different ideals applied than in the outside world with its white and heterosexual standards. Dressed in extravagant robes, ball gowns, and uniforms, they were able to take centre stage in search of fame and status within the community – with queens imitating the poses of fashion models in an attempt to outperform each other on the dancefloor.
The subculture became hugely popular – eventually even trickling down in pop culture, with Madonna and her Vogue video serving as a prime example. Since then, ballroom has spread around the globe – taking a foothold in the Netherlands as well, with Amsterdam and Rotterdam becoming two of the major hot spots.
When a member of the Kiki House of Angels came to a casting she organised in light of a fundraiser, and subsequently started voguing on the spot, the designer knew she was hooked.
The ballroom scene and its members made her think about fashion vis-a-vis different types of bodies. "When I was still in art school, there was definitely a civic standard of how models should look, and how they should be dressed," she explains. "It was very limiting. In these balls, however, a variety of body shapes and genders were being celebrated, which was so much more in tune with the direction I wanted to go in. I wanted to dress all bodies, regardless of size, gender identity, ethnicity, age or religion."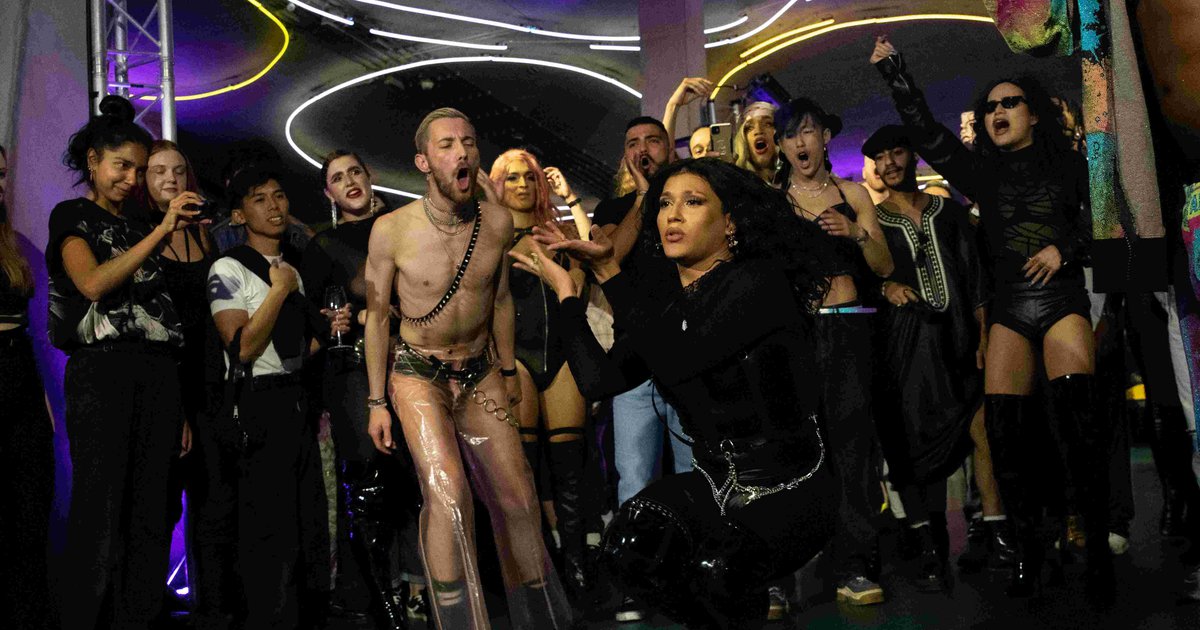 Being a recent graduate, the designer applied for a talent development grant from the Stimuleringsfonds, which she received. Having utilised it to obtain work experience and do research both in Tokyo and New York, connecting with the ballroom scenes there, she put together her first fashion collection. Rather than showcasing it during fashion week, she decided to throw a ball in The Hague, a first of a series entitled Utopia Ball. By dressing the participants in her garments, she found a way to spotlight the community she so loved.
Forzani's designs do not care about the gender of their wearer. Instead, they are filled with playful notions of femininity and masculinity – parodying and subverting stereotypes that are tied up with the gender binary. Humour and campiness are key to her designs. "One of my favourite ball moments was when a couple came out on the runway, pretending they were engaged in a fight. The guy was this typically toxic guy wearing airpods and a tracksuit, performed by a drag king [a female performer who dresses in masculine drag, personifying male gender stereotypes], and a girl with big hoops who was being jealous, pretending to smack him. The type of guys portrayed would normally be the ones yelling slurs at us [queer people]. It was so ridiculous but everybody was laughing, which felt so empowering. I love messing about with these societal expectations – turning it on its head."
Her work therefore feels inherently but not explicitly political, she explains. "The bodies I dress and the way I dress them carry a message. But it's an optimistic and celebratory message, expressed in a safe space – hence the use of the word utopia. I create my own queer utopia."
For Forzani, however, throwing balls is not merely about dressing and adorning its members. Uplifting other talent from the scene is just as important. "The ballroom scene is full of designers that normally wouldn't really have access to the usual platforms, such as fashion weeks," she says. During the second edition of the ball she therefore invited three other designers to showcase their garments in a fashion show that was held in the middle of the ball competition. "It's incredibly inspiring to see what other people come up with for the categories I put together," she explains. "It challenges me to look outside of my own bubble: in terms of references, techniques and materials."
Along the way, she started to see herself more as a creative director and producer, than a fashion designer. "For the third edition, I organised the Utopia Ball with house sibling Seven Angels Garcon – which took place in 2021 after having to postpone it in 2020 due to the pandemic – I didn't present any of my own clothes for the fashion show part. Instead I invited four designers to come and showcase their works." Forzani sees it as part of her practice to foster opportunities for others, and distribute any resources that come her way – such as development grants. "I'd like to see myself as someone who builds bridges between different communities in the fashion, art and ballroom scenes." The designer has therefore assumed the role of a facilitator, something which she is eager to continue doing in the future.
This year, on the 25th of June, the fourth edition of the Utopia Ball will take place in the Kunsthal. Their previous ball, which was part of the Deep in Vogue-exhibition, was such a success, that the institute has offered their space for her and Seven to throw another ball. It is a promising sign to see an art space engaging with young makers and a local community in a more long-term, sustainable fashion – hopefully it will become structural.
https://www.instagram.com/yamunaforzani/

Photographer Roza Ahmad (aka Coco Ninja)