A visit to the exhibition 'Dancing with Trouble', hosted by the Creative Industries Fund NL during Dutch Design Week 2022, reveals how a new generation of designers is looking to address societal crises, proposing a new design approach that takes multifaceted interdependencies and mutual relationships between humans and non-humans into account.
When the performance starts, it is hard not to think of the movie 'Transformers'. Dressed in office-white-and-blue, four performers enter the stage. They wear parts of printers around their shoulders, as hats, pinned on their sleeves. One is kneeling within the shell of an empty printer on wheels, opening and closing the flap by stretching an arm. With every human body movement, the printers seem to come to life, to dance on the floor, self-determined. "We firmly belief that objects like printers harbour humane qualities we can connect with", explains Tosca Schift, one half of the artist duo Ant Eye, who created the performance 'Inner Shell, Outer Printer', in a subsequent panel talk. "Printers often don't work, printing double lines or only black-and-white. They seem to protest, to say something to us, quite literally on paper."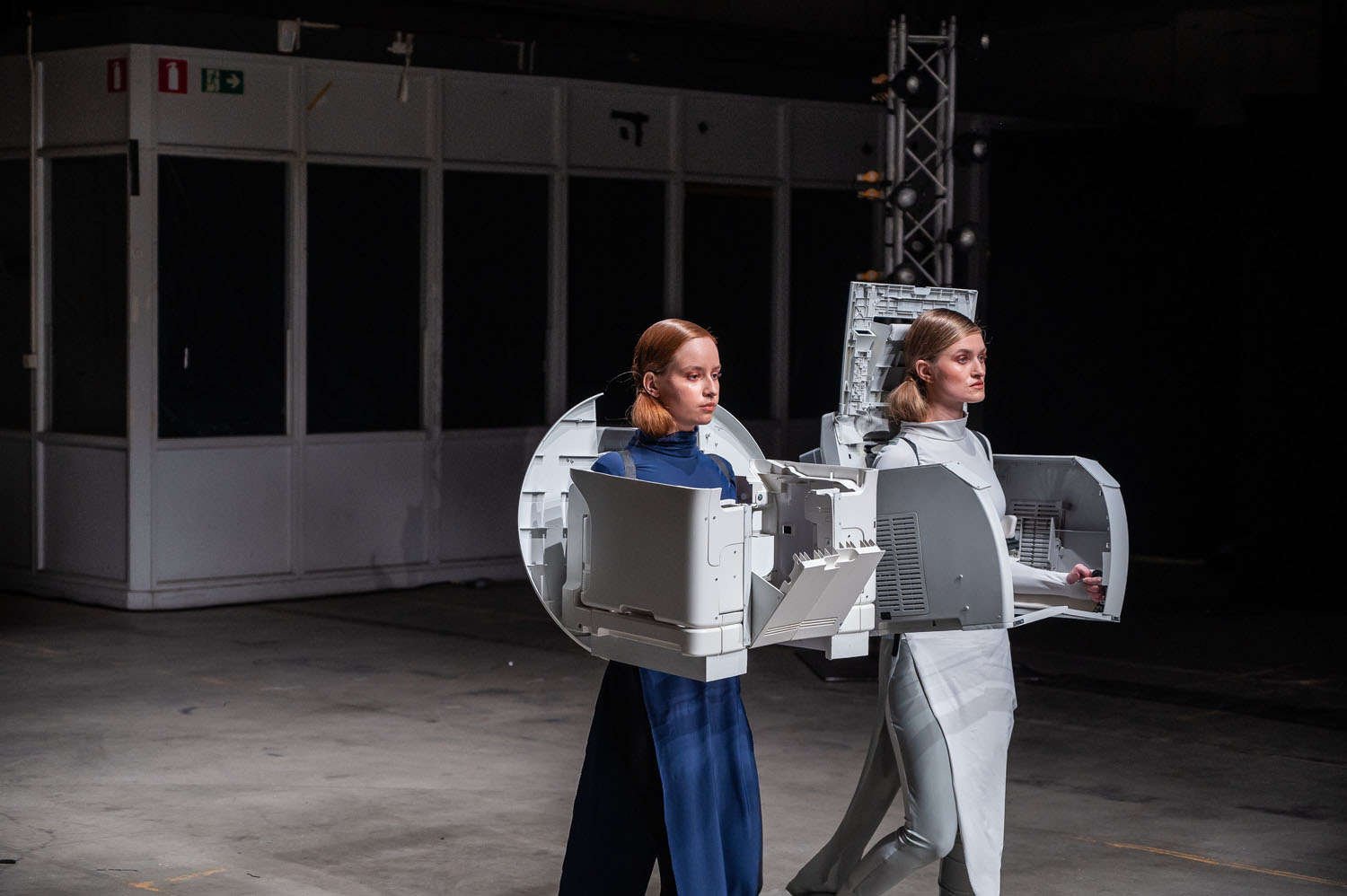 Ant Eye's performance at FASHIONCLASH Festival, Pasarella Photo<br>
It is Dutch Design Week (DDW) and the Creative Industries Fund NL is hosting an exhibition named 'Dancing with the trouble'. On this occasion, the Fund has invited Ant Eye, as well as designers Luis Ferreira, Basse Stittgen and Dasha Tsapenko, to present their work and reflect on the role of design in today's society. "In the midst of challenges like the climate crisis and polarisation, these designers are not afraid to examine the now and open up new perspectives for how human beings should interact in the world", says moderator Esther Muñoz Grootveld to introduce the panel. This article reflects on the conversation at DDW to explore the designers' emerging design practices, and understand why they are needed in this moment of time. It further considers potential limitations of the conversation.
Responding to social and ecological crises
We've just experienced a year of extremes: extreme temperatures, one of the worst droughts in recent history, the Omicron COVID variant, mounting humanitarian crises, the war in Ukraine, economic hardship, rise of populism… it goes on. A new generation of designers in the Netherlands – including Ant Eye, Ferreira, Stittgen and Tsapenko - responds to these complex issues with a critical rethinking of their role in society. Some of them reject the possibility of designing new objects: "I have a background in product design, but don't want to create new stuff. We don't need more, we need to take better care", argues Tosca Schift from Ant Eye. Basse Stittgen adds that "we are disconnected from the products we create and need to build new relationships". Both designers therefore dedicate their practice to interrogating problems with existing production and consumption processes: Stittgen traces the production of products like beef or paper, thereby shedding light on their destructive impacts on non-human bodies. Together with her partner Hanneke Klaver, Tosca Schift brings objects like printers to life, instilling in audiences an emotional connection, as well as a curiosity to explore how objects work and how their lives can be sustained through, for example, repair.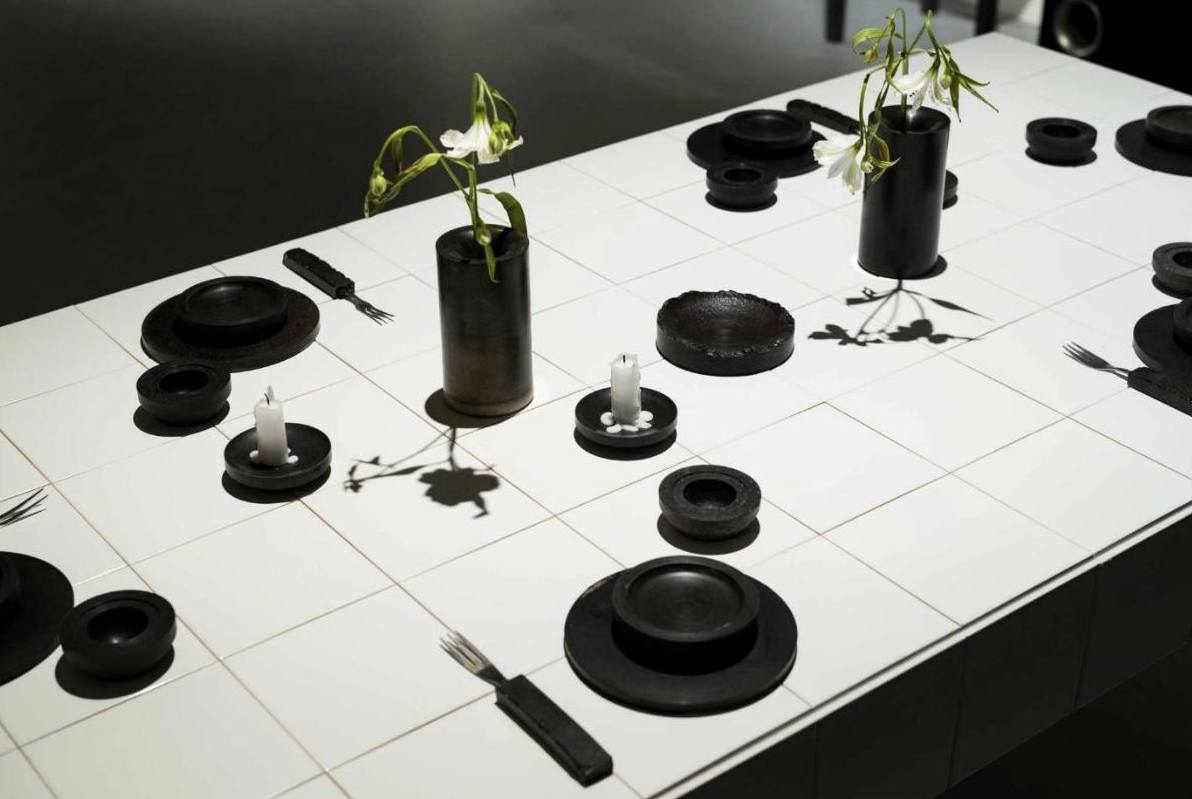 Stittgen's project 'Blood Related'
Others rethink their role by collaborating with non-humans: Convinced that "humans are not the only species with agency", Dasha Tsapenko works with various non-human species like fungi and (edible) plants to create garments. Here, natural entities become equal partners in the production of textiles rather than continue to be exploited for human purposes. In one of Luis Ferreira's projects, the creative technologist invites participants to paint with light, a process enabled by blending Leap Motion sensors with an LED matrix. Through his work, Ferreira proposes that as humans, we need to manage our expectations of technology, and regard it as a process we need to engage with rather than an object we can use.

The non-human turn in design
Unravelling the impacts of production and consumption, 'making-with' fungi or technology: albeit they follow different approaches, what all four designers have in common is a concern for the non-human. "They engage in a way of method making that emphasises the relations between human and non-human actors, understood differently by each designer, in terms of plants, industrial processes, technologies and objects", explains Yophi Ignacia, the second panel moderator. Here, humans are no longer subordinate yet form part of a complex system, in which multi-faceted interdependencies and mutual relationships governing all beings and objects are taken into account. This decentring of the human stands in stark contrast with the human-centred paradigm that has dominated design at least since the mid-1980s. Back then, designing with humans front and centre was a welcome development after many years of approaching design mostly from technology perspectives. However, today, critics ask: does human-centrism answer any of the problems started with the crises we face today? It is also discussed if "human-centred" design is really inclusive of all humans. Marginalised groups, such as BIPOC, people with disabilities, queers and women are often overlooked in the category of humans.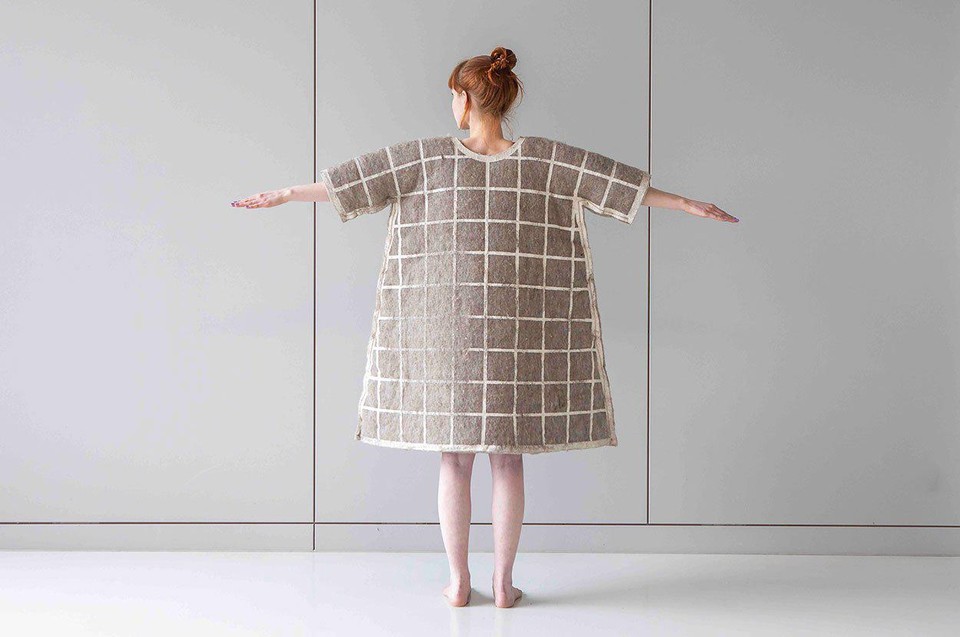 Dasha Tsapenko
Moving beyond the nature-culture binary in modern Western society
The non-human turn in design forms part of a broader awakening in modern Western culture to the reality that many indigenous, Black and queer movements have long pointed to: we are not separated from each other and the world we inhabit, we are interconnected. This is contrary to the nature-culture binary that is so deeply engrained in capitalist Western society and presumes a hierarchy between humans, and humans and the rest of nature. However, in light of climate and current crises, it becomes increasingly clear that this setting aside of certain human bodies (read: white, non-disabled, wealthy, cis men) as superior has set the stage for the exploitation of some bodies and the environment as resources. In order to solve today's challenges, it is thus necessary to strive for reciprocal, non-hierarchical relationships that nourish the lives of all humans and non-humans.
"Lover Earth"
Ant Eye, Ferreira, Stittgen and Tsapenko recognise that design plays a role in building reciprocal relationships: "We need to stop looking at things as objects to be consumed", argues Stittgen. Tsapenko adds that "our norms must change", and asks: "What would happen if we considered Earth as our lover [rather than a resource]? In what ways would our behaviours change?"

Arguably, designers have a responsibility to raise such questions. For long, design contributed – and still contributes - to the establishment of the nature-culture binary, and its consequences, by spreading models of production and consumption that are centred around the needs of few humans. At the same time, design offers a unique potential: humans develop in interaction with what is designed, not only because of the evolved environment but also by adapting our ways of thinking – and relating. What would thus happen if designers started designing a world not just for the few (humans) but for the many?
New questions raised
The DDW conversation offers several potential pathways, ranging from addressing the problems inherent to production and consumption processes (Stittgen and Ant Eye) to collaborating with non-human actors (Ferreira and Tsapenko). Involving (more) designers who have experiences with being excluded from dominant design practices, and who can lead the way in designing a world that accommodates the needs of all, could have led to additional, profound insights. At the same time, the non-human turn in design creates (new) issues that need to be addressed. For example, a focus on the relationships between humans and non-humans should not obscure the injustices amongst humans, some of which are created and perpetuated by design. These must still be attended to. Plus, emerging design practices raise questions as to the extent in which we can achieve a symbiosis between, and justice amongst, different entities. In other words: In how far can we move away from our anthropocentrism and really understand and facilitate the needs of other species? This question is also raised in Ant Eye's printer performance: halfway through the act, four additional performers – without printer costumes - enter the stage. Walking upright, they tie leashes to the printers and try to quiet their protest by forcing them off stage. Here, it becomes painfully clear for the audience present, that they, that we, still cannot let go of deciding upon the fate of others, for our own comfort and benefit.


Lena Bäunker is a freelance journalist and communications specialist based in Rotterdam, the Netherlands.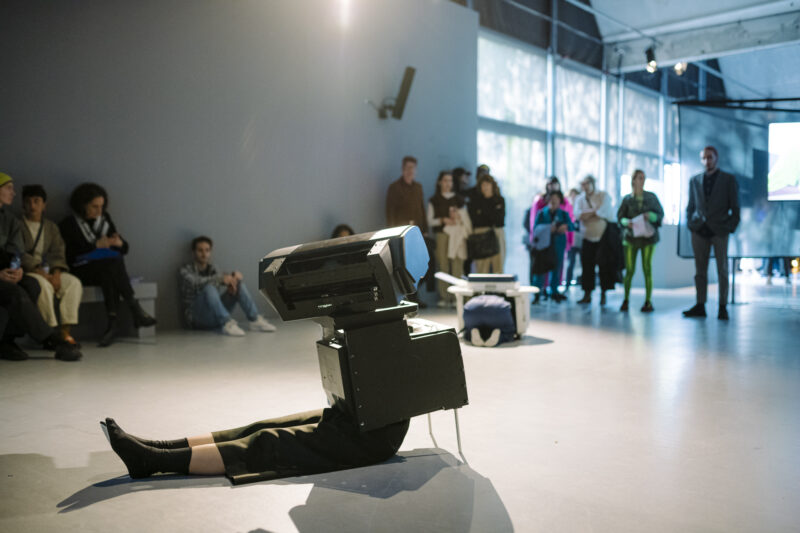 Ant Eye performance at MU, image Max Kneefel<br>
Dancing with trouble
Every year, thanks to a grant from the Stimuleringsfonds Creatieve Industrie, up-and-coming design talents get the chance to develop to their full artistic and professional potential.
During Dutch Design Week, the 2022 crop personally presented themselves to the public with performances, lectures, talks and workshops through the Dancing with Trouble programme from 23 to 30 October the space in MU Hybrid Art House.
Dancing with Trouble, was an 8-day program during Dutch Design Week, curated by Eva van Breugel, Manique Hendricks and Esther Muñoz Grootveld, commissioned by the Creative Industries Fund NL.
Discover all the talents
https://talent.stimuleringsfonds.nl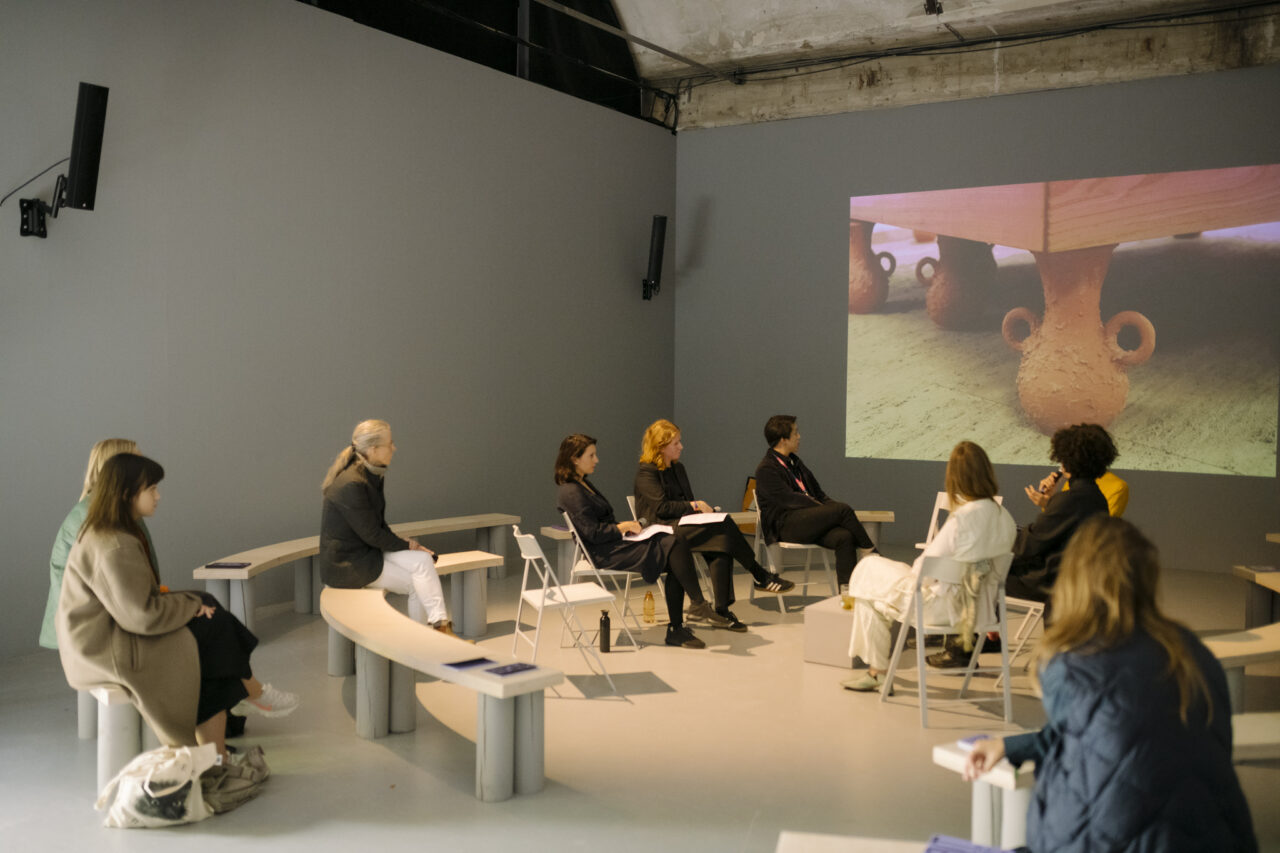 image Max Kneefel<br>